Vet-Masti Nill Supplement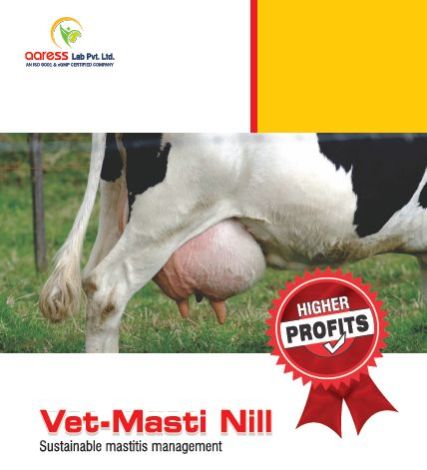 Business Type
Manufacturer, Exporter, Supplier
Tri Sodium Citrate
25gm
Vitamin A
10000 I.U
Vitamin D3
20001.U
Click to view more
Product Details
Manganese Sulphate
3000mg
Lactic Acid Bacillus
200 Million
CFU Live Yeast
50000 Million
CFU Serratiopeptidase
32rng
Note : Vet-Masti Nil is safe, economical, & effective. It helps in avoiding culling and discarding of milk. Moreover, there is no withdrawal periods and hazards from residual problems in milk and meat and very effective in cases of mastitis refractory to antibiotics.

Advantages :
Restores normal pH and biochemical constituents of milk in udder
Enhances immunity against mastitis
Decreases the incidence and duration of mastitis
Has powerful anti-inflammatory and analgesic property
Helps in repairing the damaged tissues
Helps to kill the pathogenic bacteria systematically
Ensures faster recovery
When co-prescribed with antibiotic, reduces the duration of antibiotic therapy
Features :
Maintaining normal pH of milk in udder.
Enhancing immunity of animal.
Eliminating the symptoms of this disease.
Eliminating the cause of mastitis.

Other Details :
Mastitis continues a major economic issue for dairy farmers, due to improved breeding, the milching Animal's udder become very sensitive to infection due to its increase size, position of udder and rapid removal of large volume of milk. The heavy and big site of udder is again prone to injury and infection. Mastitis is recognized as one of the most costly disease affecting dairy industry and annual losses occur in many billion USD Globally.
Mastitis- related losses are associated with reduction in yield, increased treatment costs, discarded milk, increased in culling. At present, the use of antibiotics presents certain inconveniences due to the high cost involved, in addition to the generation of bacterial resistance. A part of a broader strategy to manage mastitis in farm animals focuses on-
Vet-Masti Nil is Unique combination of -15 -sodium Citrate, Vitamins (A,D3,E,H,K) Trace Minerals (Se,Cu,Co,,,Mn,1), Enzymes & Natural actives which help in effective mastitis management in livestock in a safe & sustainable manner.
Tri Sodium citrate t6 65 a most effective buffer which regulates ca2., & H. in the udder and maintains normal pH (6.5 — 6.8) lactose, total proteins, and fat are sustainably lowered in mastitis milk. However, these constituents in milk increased markedly on recovery after tri-sodium citrate therapy.
Trace minerals and vitamins: increase animal's defense against infection. Vitamins and mineral such as Vitamin E, Selenium, Copper and zinc enhance cow immunity against mastitis.
Vitamin E decreases the incidence of mastitis and selenium decreases the duration of these infections. Combination of these two supplement results in greatest increase defense against the mastitis.
Copper has an important role on the immune system helping to fight off infection and diseases.
Zinc is also an integral of immune system. Zinc is important for production of keratin, which liner the inside of teat duct and helps to keep out microorganism that can cause mastitis.
Vitamin A and Vitamin H increase the tonicity of alveoli in udder and milk holding capacity of alveoli.
Vitamin K necessary for coagulation of blood which sometimes occur in mastitis due to internally damaged tissue of udder.
Potassium iodide It is an alternative treatment for painful udder condition and very effective to treat and prevent granulomatous mastitis.
Amino Adds regenerates the damage tissue of udder.
Serratiopeptidase has powerful anti-inflammatory properties and is particularly useful for swelling, fibrocystic condition.
Bromelain affects prostaglandin synthesis, which gives it its anti-inflammatory.
Probiotics increase the population of micro flora and enhance fiber degradation and feed efficiency and helpful to recover the digestion in antibiotic therapy.
Phyto Extracts blend of unique herbs helpful to remove symptoms of mastitis helpful to kill pathogenic causative agent of mastitis.
Looking for "
Vet-Masti Nill Supplement

" ?